IF YOU NEED CONTINUOUS POWER THEN CHECK THIS OUT.
GENERATOR SET
MILITARY ISSUED
* BUILT TO A HIGHER STANDARD *
*CONTINUOUS RUN OPERATION *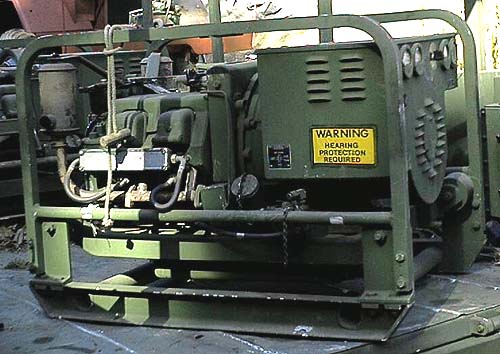 3-K.W. AT 60 CYCLES
NEXT TO NEW
** ONLY 60 HOURS ON THE UNIT **
THIS GENERATOR SET IS MILITARY ISSUED AND MADE FOR CONTINUOUS RUNNING. IT IS POWERED BY A CHRYSLER 32 CUBIC INCH, 4-CYLINDER, 4-CYCLE, AIR-COOLED, OVER-HEAD VALVE, GASOLINE ENGINE. THIS IS A ROPE-PULL START ENGINE. IT HAS AN ON BOARD FUEL TANK WITH ABOUT A 5-GALLON CAPACITY WITH OPTIONAL RESERVE FUEL SUPPORT PORT. THIS ENGINE IS MADE TO LAST. IT EVEN HAS AN OIL FILTER AND OIL PUMP AND WATERPROOF IGNITION! THE ENGINE OIL AND OIL FILTER HAVE BEEN CHANGED AND THE AIR CLEANER HAS BEEN SERVICED. A SET OF FOUR EXTRA SPARK PLUGS GOES WITH THE GENERATOR. EVERYTHING HAS BEEN CHECKED OUT AND IS WORKING PROPERLY !
GENERATOR SPECS:
MADE BY: ONAN

MODEL NUMBER: MEP 016C

RATING: 3-K.W. AT 60 CYCLES

VOLTS: 120/208-3 PHASE; 120-3 PHASE; 240-1 PHASE; 120-1 PHASE

AMPS: 10.4; 18; 15.6; 31.2

TWO 120 PLUG IN OUTLETS AND FOUR MAIN WIRE LEGS TO RUN DIRECT WIRES TO.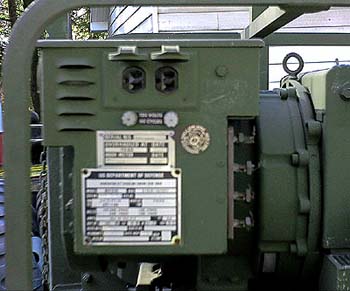 DEMINSIONS: 35 INCHES LONG; 24 INCHES WIDE; 25 INCHES HIGH; WEIGHT IS 300 POUNDS.

IDEAL FOR BACK-UP POWER OR CONTINUOUS POWER FOR FARMERS, MECHANICS, YOUR HOME OR CAMP, OR MINING, CONSTRUCTION AND LOGGING COMPANIES, ETC.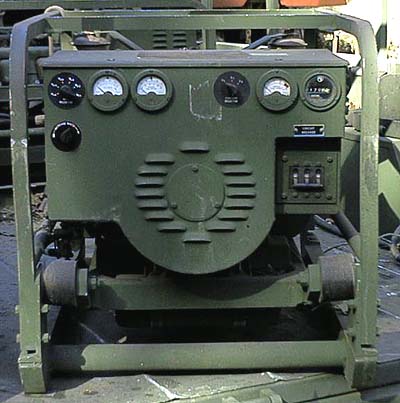 IF INTERESTED IN GENERATING CONTINUOUS ELECTRIC THEN CONTACT US AT: gijohn@militaryconvoy.com
Home - 4x4 Trucks - Medium Duty Trucks -6x6 Heavy Duty Truck Tractors- Heavy Duty Trucks - Oshkosh Snow Plow Trucks - Wreckers and Cranes - Parts