4X4 OSHKOSH
HEAVY-DUTY SNOW PLOW TRUCK

OSHKOSH, MODEL WT-2206, HEAVY DUTY SNOW PLOW TRUCK

ONLY 3,300 MILES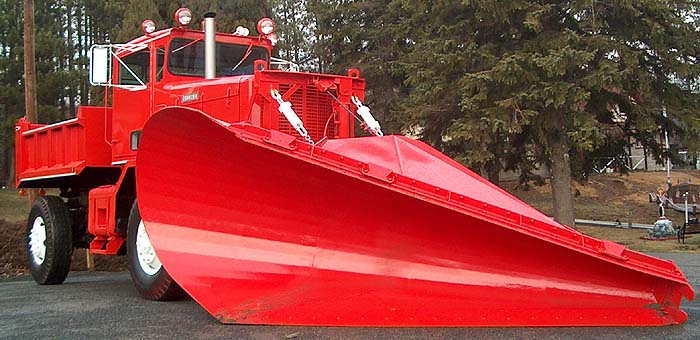 THIS TRUCK HAS UNDER GONE A COMPLETE REMANUFACTURE FROM OSHKOSH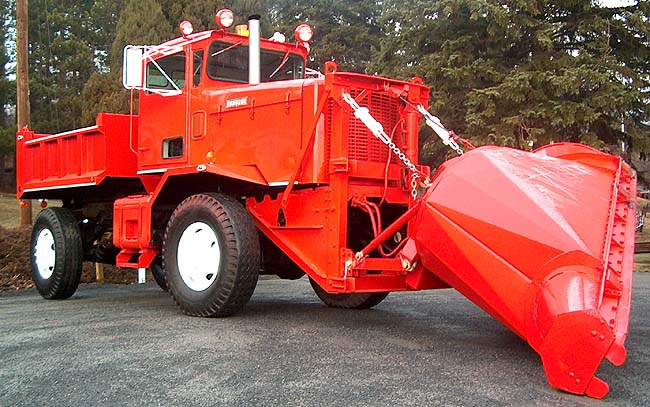 SPECIFICATIONS:
ENGINE: CATERPILLAR; MODEL 3406 IN-LINE 6-CYLINDER LIQUID COOLED TURBO-CHARGED 325 HORSEPOWER.
TRANSMISSION: ALLISION; 3-SPEED FORWARD WITH 1 REVERSE; AUTOMATIC SHIFT.
TRANSFER CASE: OSHKOSH; FULL TIME ALL WHEEL DRIVE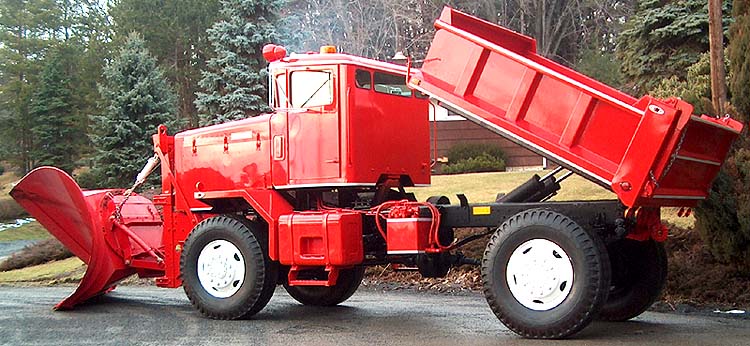 AXLES: OSHKOSH; NUMBER OF AXLES: 2
STEERING: ROSS; HYDRAULIC POWER ASSISTED STEERING BOX AND HYDRAULIC ASSIST CYLINDER.
SUSPENSION: FRONT MULTILEAF SEMIELLIPTIC LEAVES; REAR MULTILEAF SEMIELLIPTIC LEAVES.
TIRES: SIZE 1400X24; PLY RATING 24; NUMBER OF TIRES ON THE GROUND IS FOUR.

Features: This truck has been fully remanufactured by Oshkosh in 1986. All hydraulic elevating, rotating Frink front plow frame; 1-Frink plow with rotating head for left or right angle; Double frame made of heat treated alloy steel; All in the cab hydraulic controls; Power steering; Air brakes with maxi's; Hardtop cab roof; ; One new rotating amber light; Dual fuel tanks for a total of @104gallons; Engine block heaters; Engine preheater; Personnel cab heater with defrosters; Four 14.00X24 tires and tubes; 2-main plow lights with 2-seperate spotlights; 3-man all view window cab; Full instrumentation ( oil psi, oil temp, coolant temp, amp gauge, air psi, trans clutch psi ); drivers spring ride seat; Air wipers; Plus the availabilty of full-time all wheel drive will push you on no matter what.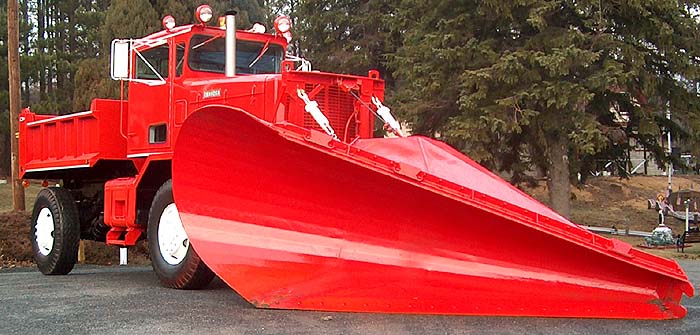 General: The truck has been completely serviced and reconditioned to a like new state with everything tested and functioning properly. All new oils, belts, filters, antifreeze (-45'F), gear lube, grease, batteries, four new tires and tubes, etc. All components (engine, transmissin, transfer case, axles, brakes, seals, pto boxes, pumps, etc.) have been inspected and tested and replaced if necessary to assure top performance and reliability for years to come. Exterior is finely finished and detailed in rescue red with safety white trim and white wheels. We also offer free techinal support via telephone, fax or email to all of our customers!
To view the above truck please contact me at
email gijohn@militaryconvoy.com or phone 814-834-1628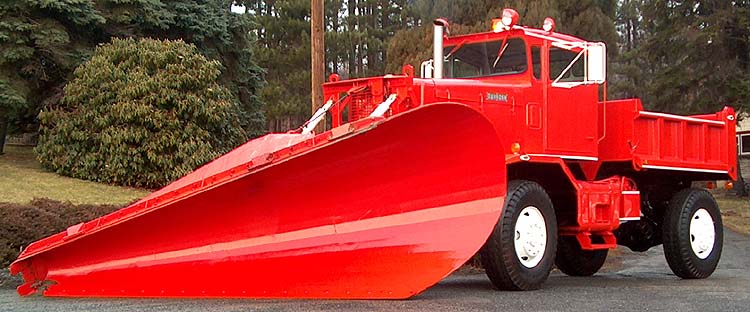 Remember all you need to push your competition out of business is this
SUPER OSHKOSH!!!
Home - 4x4 Trucks - Medium Duty 6x6 Trucks - 6x6 Heavy Duty Truck Tractors - Heavy Duty 6x6 Trucks - Oshkosh Snow Plow Trucks - Parts